Category Archives:
Business Products & Services
Air bubble film machine extrusion is scientific and reasonable structure design, smooth and reliable running and convenient operation and maintenance. Polyethylene air-cushion film (also called polyethylene bubble film), which is divided into two kind: ordinary polyethylene air-cushion film and composite polyethylene air-cushion film, is a kind of packing material which has been widely used at present. It not only has good cushioning effect, shock resistance and heat-sealing performance, but also has such advantages as good corrosion resistance and transparency , etc. So it has been widely used for packing, household wares, post parcel, bicycle , polyurethane furniture, etc.1.This air bubble film machine's aircrew adopts the disposable shaping craft.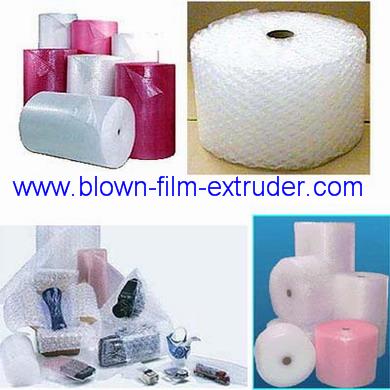 1.This air bubble film machine's aircrew adopts the disposable shaping craft.
2.The air bubble film machine is our factory that draws demotic and international advanced technology extensively, through a large number of production practic eses in having ordinary equipment originally, develop, designing,can produced polyethylene compound bubble(cushion) membrane in succession.
3.Designs science, practical. Rational in structure of the air bubble film machine.
4.The main machine and the composite parts can realize ganged frequency-converting.
The frequency converting is stable and accurate. The temperature control adopts PID intelligent temperature control.It is energy saving ,environmental and aureate.The composite parts can adjust pneumatic control which can saves a lot of time and efforts.
Model: KDPEG-1000 KDPEG-1200 KDPEG-1500 KDPEG-2000;
Main&minor Screw Dia.: 60mm/50mm 65mm/55mm 85mm/65mm 95mm/70mm;
Film width: 1000mm 1200mm 1500mm 2000mm;
Output: 120kg/h 160kg/h 180kg/h 250kg/h;
Total power: 75kw 95kw 120kw 165kw;
L/D: 28:1 28:1 28:1 28:1;
Linear speed: 1100m/hour 1100m/hour 1100m/hour 1100m/hour;
Weight: 5T 6T 7T 9T;

Kingdom Machine co,ltd
Mobile:0086-1358812663; 0086-13088651008;
Whatsapp/Viber/tango:+86-13958812663;
Tel.:0086-577-66881211; Fax:0086-577-66881311;
sale@kingdommachine.com; Kingdombillwang@hotmail.com;
Skype:kingdombillwang
www.kingdommachine.com;
Ruian Economic Zone,Wenzhou,China
You will find individuals who are perfectly happy earning a living for other people provided they have a job. Then there are those who, while they may be content creating wealth, as well as who do a superb job any time they happen to be doing work for someone else, yet whom very deep down, will never be content until finally they are officially their own companies and also masters associated with their particular circumstances. It is actually the reason why each goes to higher education, exactly why they consider enterprise courses to to in concert to their particular decoupled molding training. Individuals that happen to be born business owners are usually go-getters. They generally do almost everything they probably can which will help all of them get where by they wish to end up. They don't cease, and so they keep their very own eyes on the goal.
Many people do not want to possibly be business owners for the easy pleasure regarding being one. They sometimes contain a creation that they would like to produce, some kind of service to supply, an innovative new item which they desire to have patented or a certain element which they desire to generate by means of precisely what they realized within their injection molding training or maybe in a later, heightened scientific molding training module. They understand the plastics plus they know the technology and so they view the work arena and what is actually essential and so they just itch to become the one who gets to develop it. They've got both the needed vision plus the opportunity to have it come to life.
There are several characteristics that nearly every single entrepreneur needs to be able to succeed. One, they want the ember, the inventive notion, the capability to increase the risk for relationship that other individuals neglect. Often it is their perspective will be what gives their own designs their value, for everywhere they innovate they lead a course where others can follow inside their footsteps. Yet another thing that they need may be the chance to stay at the clear top of their particular industry. A good way to do that is as simple as making the most of all of the informative options that could come their way, possibilities like scientific molding seminars. The combination regarding the capacity to help make connections and to predict where by an individual's ideas will match a larger point of view is essential. Finally, they have got the ability to embrace the progress that time delivers, change that may be unavoidable.